Asylum 5
Featuring Misha Collins, Jake Abel, Aldis Hodge, Mark Sheppard, Fredric Lehne and Julie McNiven
.
On Friday morning Jo, Vicky and I head back to the Birmingham Hilton for Asylum 5: The Feast of the Dead! I think we arrived at about 1pm as usual - our rooms weren't quite ready and we couldn't register until after 4.30pm so we were at a bit of a loose end. Luckily somewhere in the hotel there was a charity sale for something not at all related to Asylum. We milled around there for a while - tried on a few dresses (I found a really nice black and white one but it didn't fit me right) - to kill some time. Then we tried our luck with checking into our rooms again and surprisingly they were ready so we hung out in our rooms for a while and watched a bit of TV ("Pointless" was on). Registering was a breeze - not quite as quick as Asylum 4 but I think we queued for about half an hour which is nothing really. Everything was all present and correct so wandered around for a bit before heading back to our rooms. Then we had more time to kill before the first party of the event - which had a Guys and Dolls theme. We dressed up and danced like twats before heading to bed at around 1am.
We were up early (well for me) on Saturday and headed down for breakfast at about 7.30am. I'm not a big fan of eating in the mornings so I didn't have much but as usual we stocked up on food for lunch. After that we headed to the opening ceremony which was followed by a group talk with all of the guests - minus Mark Sheppard (who you might recognise from almost everything!) who was filming on Saturday and was therefore only attending on Sunday. Fredric Lehne was only attending on Saturday because was filming on Monday and had to fly back on Sunday. I thought it was really nice of both of them to fit one day for the fans into their busy schedule. The talk with all the guests was really fun - all of them had really good chemistry with each other and played off each other really well.
After that it was time for our Misha Collins photoshoot! We'd missed out on one at Asylum 3 so were very excited about finally getting a picture with him (I think that shows in the photo! Lol!). Jo and I had decided that we were gonna wear our devil horns as it was Halloween weekend and had come up the idea bringing an angel halo and asking Misha to wear it too, The photoshoot was very quick (as they always are) but Jo quickly asked if he would please put them on - he honestly didn't react at all, he just took them from her and put them straight on - and after the picture he took them off and gave them to me. I think the photo looks really cool in the end and I'm glad we went through with asking him as I was afraid we'd chicken out. I probably would have if I'd been on my own.
Then I think we headed to the autograph room to get our autos from Aldis Hodge (who's also made appearances in "Bones" and "Castle" and is a main character in "Leverage") and Fredric Lehne (who's appeared in "Criminal Minds" too among other things - and who was also at A3). Aldis Hodge is lovely - I couldn't think of anything to really say to him so I ended up just making general small talk along the lines of "hi, how are you? Are you enjoying the weekend?" etc. He was really sweet though and when doing Jo's autograph the sharpie ran out and he seemed quite concerned about it, wondering if he should try and go over it but worried that it might ruin it.
Fredric Lehne (aka Freddie) is a legend. Even though it was supposed to be really rushed he took the time to personalise everything and talk to everyone and shake their hands. I ended up just asking him if he was filming on Sunday and if it was for "Big Love" and thanking him for coming. He's seems like a genuinely nice guy though and really seems to take the extra time for us fans.
I think it was the Misha Collins talk then (although I might have got the order of the day a bit mixed up). Misha's talks are always epic and mainly consist of fans trying out smart arse Misha but failing. Misha has a real skill of being able to talk for about an hour but not actually say anything and satisfy the fans by not really answering any of their questions! That obviously must come from his background in politics. He's so entertaining though, although I don't think I could tell you anything he actually talked about. We then stayed in the talks room for Jake Abel and Julie McNiven who were great together considering they'd never met before. They gave an entertaining talk and answered everything they were asked. A break for lunch followed and after that we attended talks with Freddie and Aldis "I'm just sayin'" Hodge (great talks from both) and got the rest of our autographs.
Jake Abel is officially the cutest thing I've ever seen - wearing a funky hat and sporting a cheeky grin. While getting his autograph I told him I really liked his hat and that it was really nice of him to come to the event on such short notice (he was a replacement guest for Richard Speight Jr who cancelled last week) and he told me "it's my pleasure, thankyou for coming out to see me" and I said "aww, it's really nice to meet you" before saying my goodbye. I think I spent the rest of the weekend saying "aww, bless 'im" every time I saw him. My new found love for both him and Aldis was cemented by their actions in the talks from Sunday which I'll address a bit later on.
Julie McNiven was very sweet - I couldn't think of anything to say to her really so I just ended up telling her I really liked her hair. It did look very pretty. Misha, of course, is a dude and I think I just asked him how he was and made general small talk.
Saturday evening was group photo time so Vicky and I headed to that while Jo headed back up to the room for a while. The group photoshoot is great! I was stood next to Misha who was standing closer to me than he needed to be and made me feel rather uncomfortable as I knew his face was right next to mine but didn't want to react while the photo was being taken. Once the photo was taken he looked right at me quite strangely and I was thinking "stop looking at me!". He's very strange but we love him for it. After that we headed out for something to eat before retreating back to our rooms to watch "The X Factor" while getting ready for the Halloween themed party - once again we danced like twats before heading to bed at just before 2am.
Sunday morning brought the arrival of Mark "nah" Sheppard and the departure of Fredric Lehne. First up was Mark's talk which was awesome! You could tell how much he enjoyed that kinda fan pay back and he fielded questions about most of his body of work which was really good as he's been in so many great things. Then we headed to our photoshoot with him - Jo and I had decided that we were gonna wear our devil horns and bring a pair for Mark and ask if he could wear them. As with the Misha photoshoot Jo asked him if he'd do it. He politely declined - he shrugged and said "nah" which has now become our response to almost every question. He wasn't at all rude about it and we weren't really disappointed or anything. There was always a chance that he'd say no but we thought we'd ask anyway. He was really friendly though and called us darlin' (he sounded like Cal Lightman when he said it!). I'm quite pleased with our photo although he doesn't look very comfortable in it - he looked a bit uncomfortable in most of the pictures we saw so it wasn't just us!
After that we spent the rest of the morning in the talks. Mark and Aldis was the first one and they were brilliant together - they'd appeared in "Leverage" together so obviously knew each other fairly well and gave a fun and entertaining talk. After that it was just Aldis and this talk was the moment when I realise how cool he is. When the first person came to ask a question her mic wasn't working so he went down to her with his mic and put his arm around her while she asked the question. He then proceeded to do that to every single person who asked a question! Which I thought was really sweet - he was running back and forth for the whole thing. When one of the fans got up to ask a question on behalf of her husband he made her husband get up on stage to ask it himself and when the fan wanted Aldis to record his mobile answer phone message he did it there and then and it sounded awesome! Legend! I think lunch was next followed by a solo talk with the adorable Jake Abel. The first woman who got up to ask him a question mentioned that Aldis hugged everyone who had asked him a question so Jake did exactly the same! Hugs all round! Awww! I have to say that I think Jake and Aldis were probably my favourite guests. Everyone was amazing though.
Then came another piece of randomness called the Misha Collins talk! Although we had to pop off just after it started to get Mark's autograph! I was very disappointed with myself in regard to getting the Mark autograph - I'd thought of all these great things to say to him but just ended up saying nothing! Typical! While he was signing my picture I didn't really want to distract him so I just stood there! Then I said "thankyou" and he looked up like he was surprised that I was a different person than when he last looked and said something like "sorry babe, I got distracted then". I just smiled, said "goodbye" and waved. Lol! This is what happens when I think too much about what I want to say! He's awesome though and I'm really glad I've finally met him after seeing him in so many shows over the years - Jo did mention to him that we were really glad that he was at the event because he's in everything we watch.
We headed back to the talk room then and caught the second half of the Misha talk which was followed by another talk by cute Jake and Julie which was great again. Loved them together. Then came the closing ceremony and Asylum 5 was all over (and ahead of schedule!). It was an awesome event! The organisation was brilliant. Having less guests than the last two Asylums we've attended but it somehow made it nicer - I felt like we got to know more about the guests this way.
While everyone else was queuing to get their luggage from the concierge we decided to find the comfortable leather chair we'd found earlier and chilled for a while and wait for the queues to go before getting our bags. While we were doing that the guests walked past to wherever they were going. Misha winked at us and said goodbye and we waved and said "thankyou!" to him and Julie. Plus music guest Jason Mann. Cute Jake and Aldis walked past a little later but I don't think they saw us so we didn't call them or anything. They'd commented on how respectful the fans were during the closing ceremony and we didn't want to change their minds by shouting at them or whatever. Plus, it probably looked like we were totally waiting for them even though we really weren't. We'd been sitting there for about 30 minutes so we decided to go and get our bags and head to the station, we got home at about 10.30 and another Asylum was over.
Massive thanks to Misha Collins, Jake Abel, Aldis Hodge, Mark Sheppard, Fredric Lehne, Julie McNiven, everyone at Rogue Events and, of course, Jo and Vicky for a great weekend! Roll on May 2011!
I took pictures of the pictures on my camera - they're not great quality but there you go.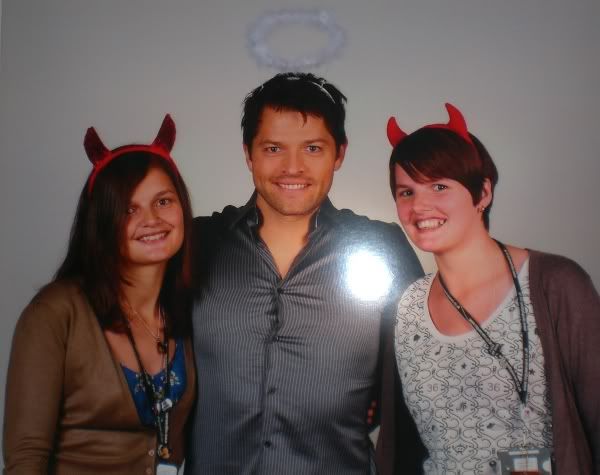 Meeeeshaaaa!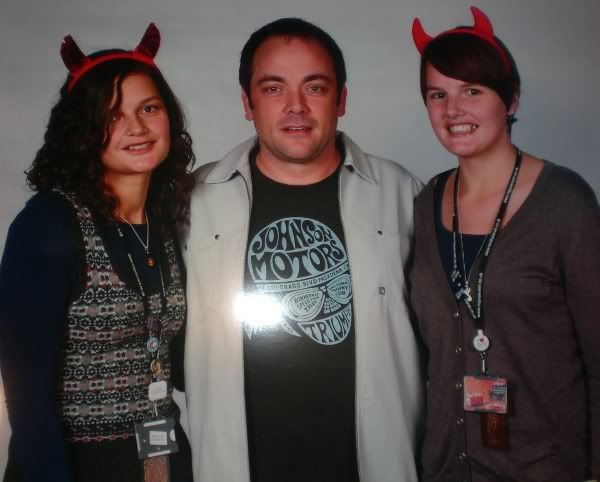 "Time to call 911!"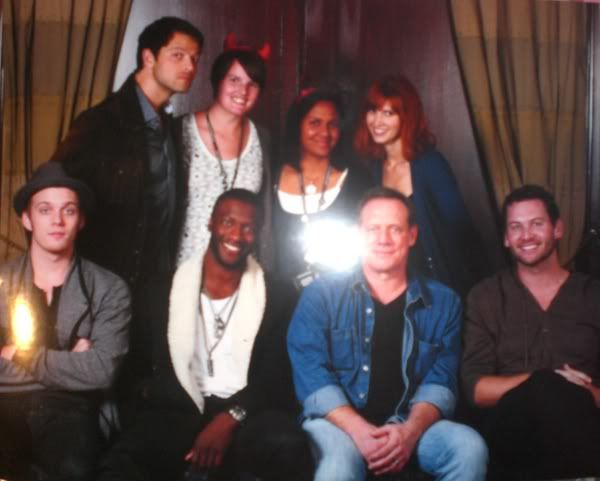 Group
Current Mood:
tired
Current Music: "Pointless " on TV